la Fondation andré forestier pour l'art contemporain
Mindy Yan Miller
seeing and not seeing


[and other recent works]


November 10 - December 12, 2021 at Produit Rien, Montreal
Mindy Yan Miller's installations, sculpture and performative pieces investigate labour, identity, loss, and commodification through a source-practice involving meaning-laden materials combined with actions of repetition and pattern making. She has worked with used clothing, melted fabric, human hair, Coke cans and, for the work in this exhibition, cowhides. The work in this exhibition is part of a new body of work involving hides as primary material. For seeing and not seeing, industrially produced cowhides are the basis for Yan Miller's working processes involving cutting, shaving, perforating and other pattern-making interventions in artworks which are displayed both frontally (as hanging wall-works) and horizontally (as table-works).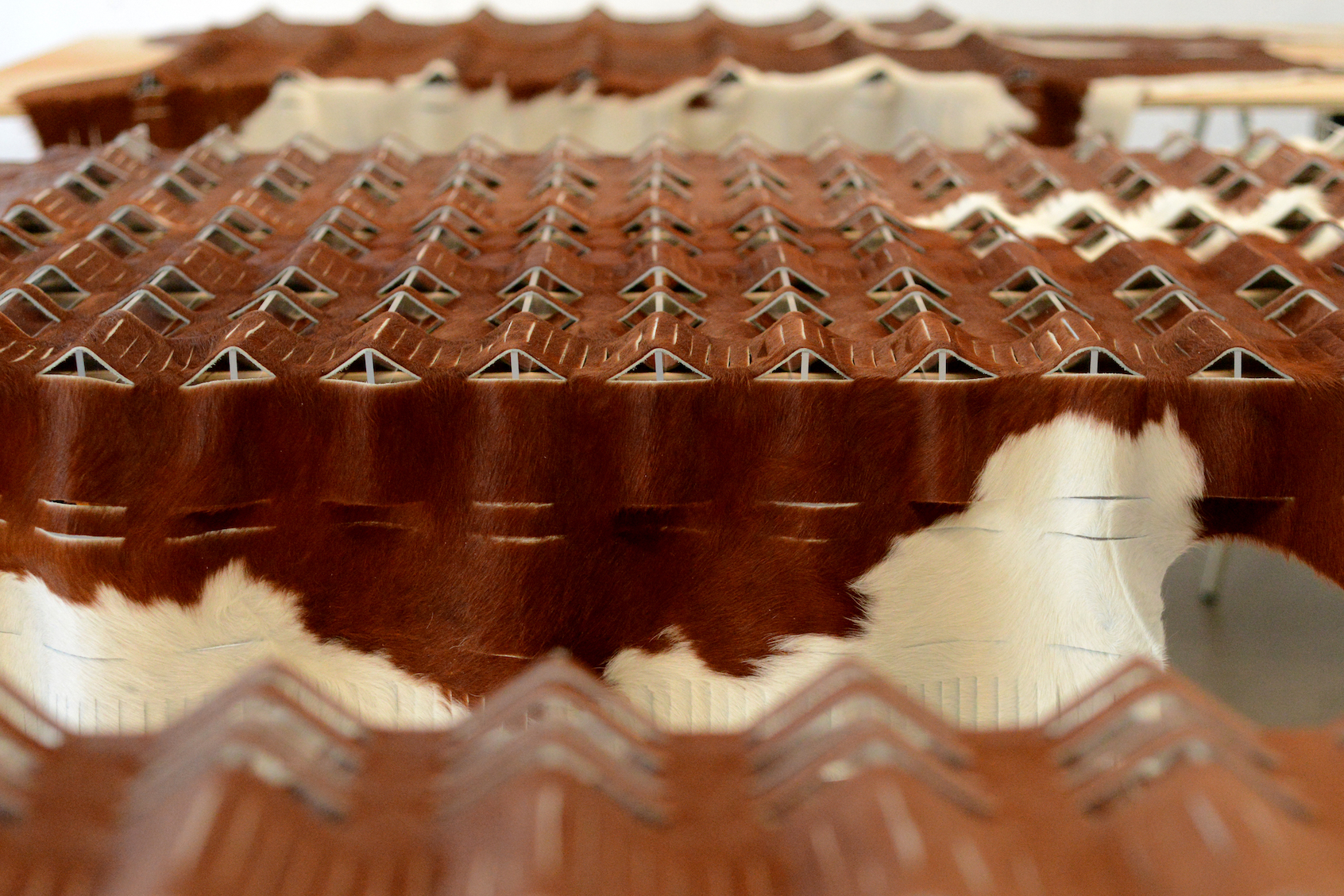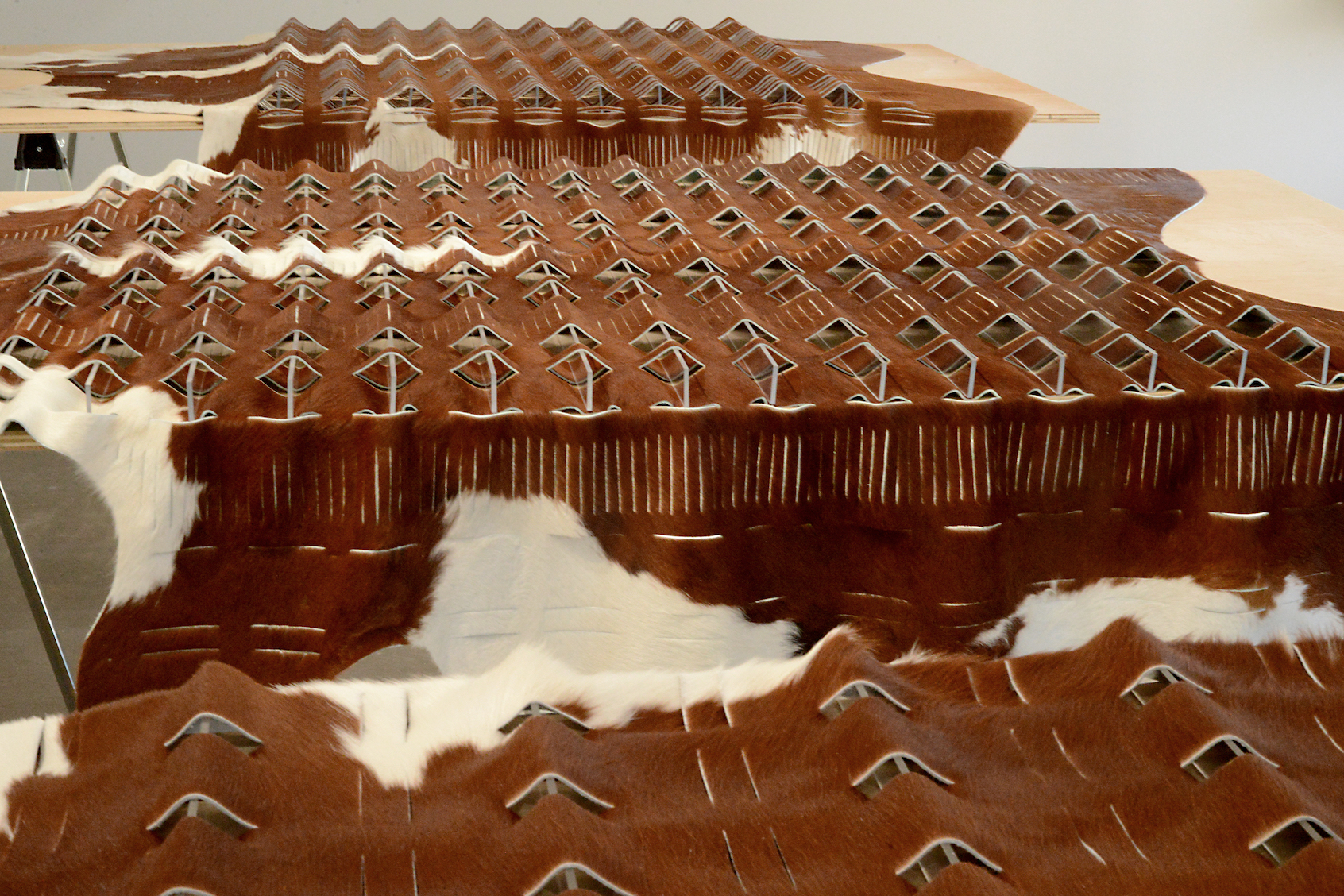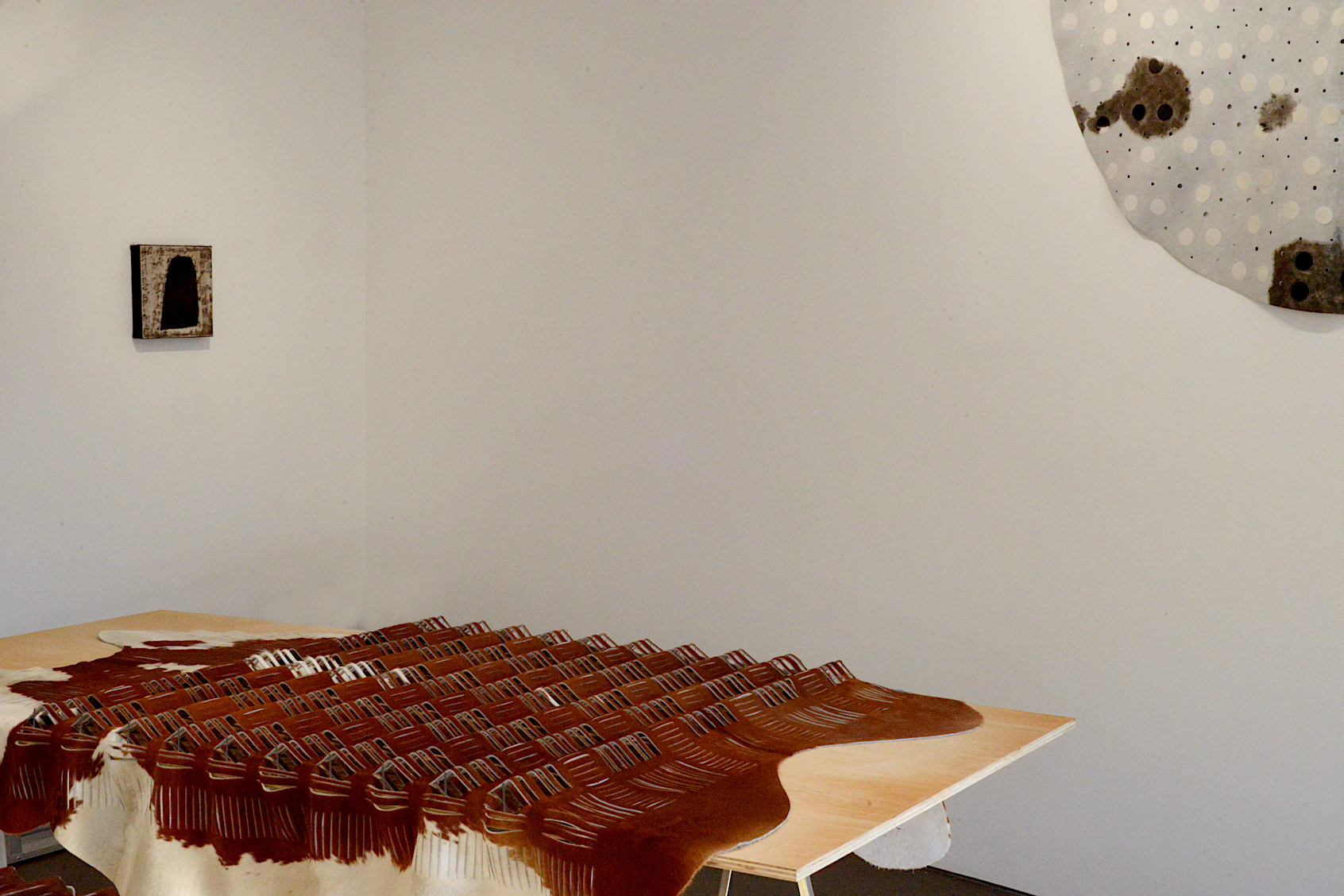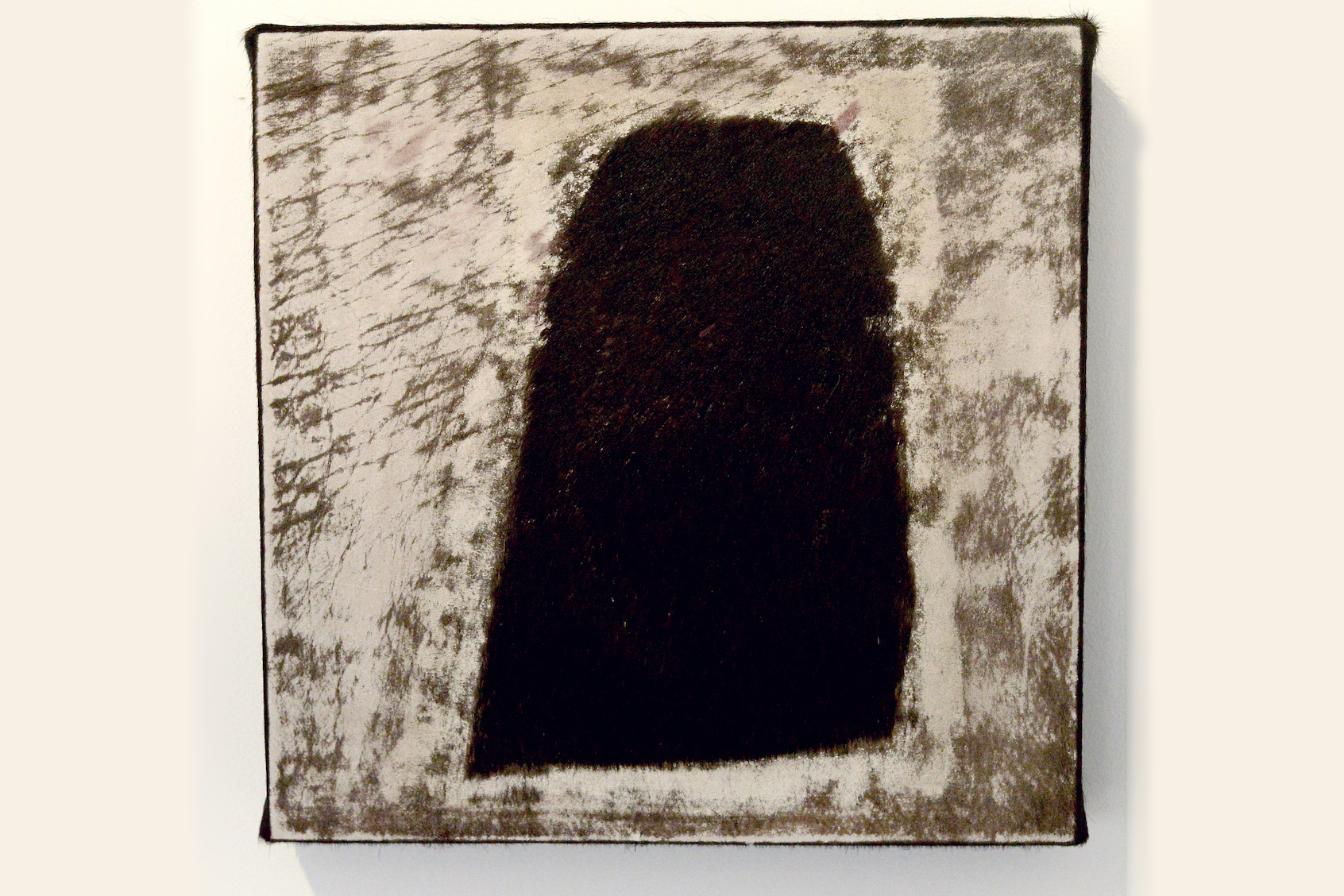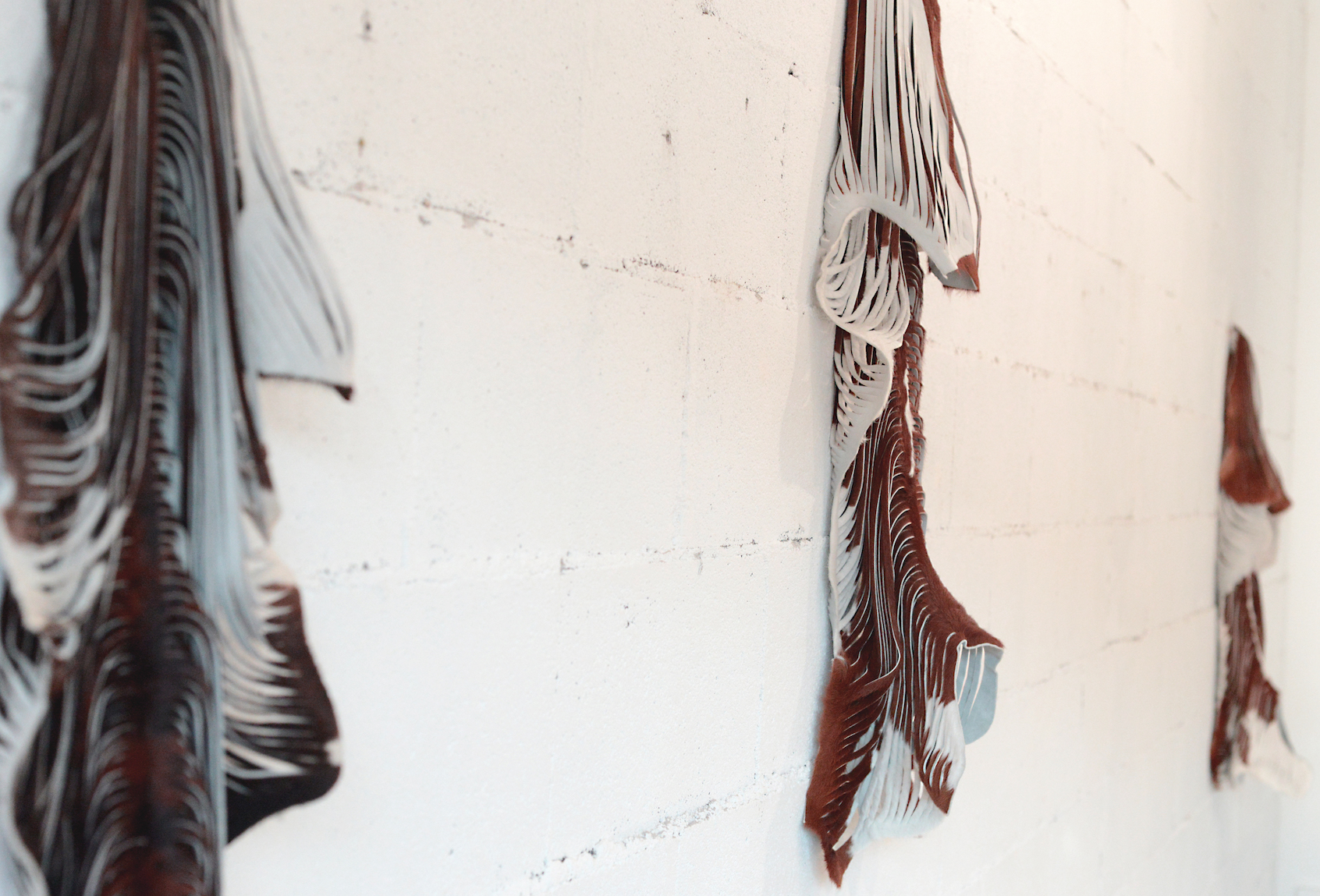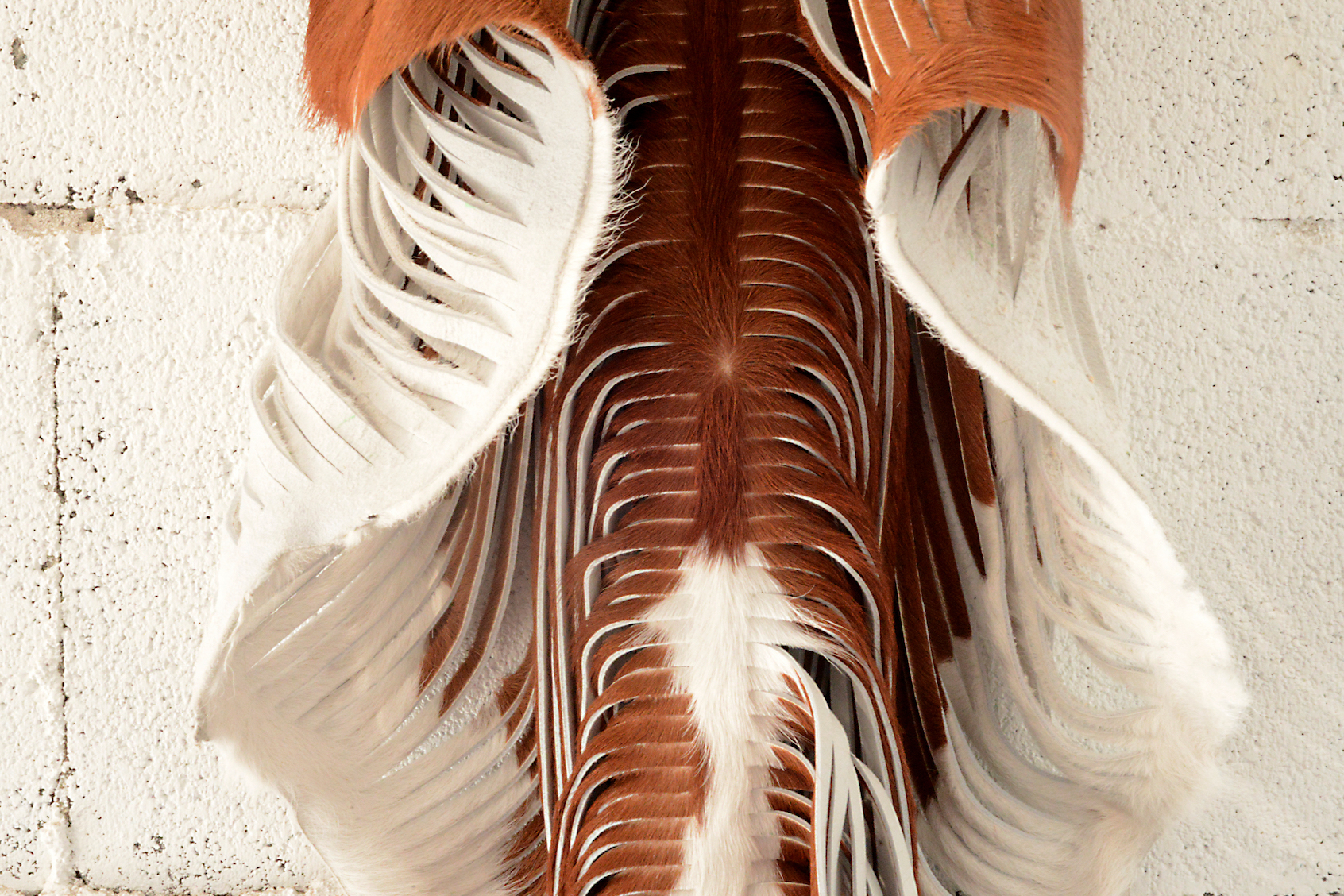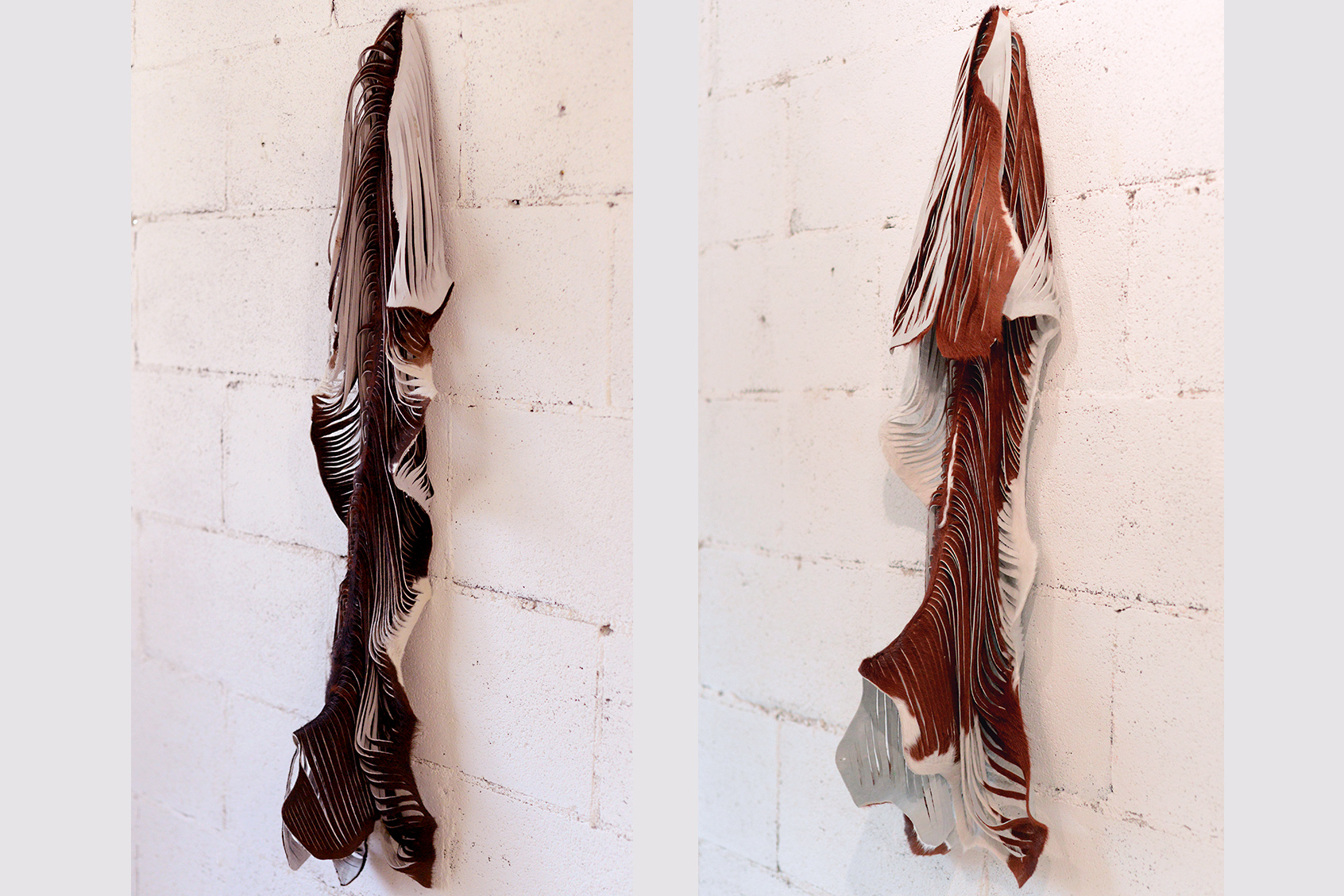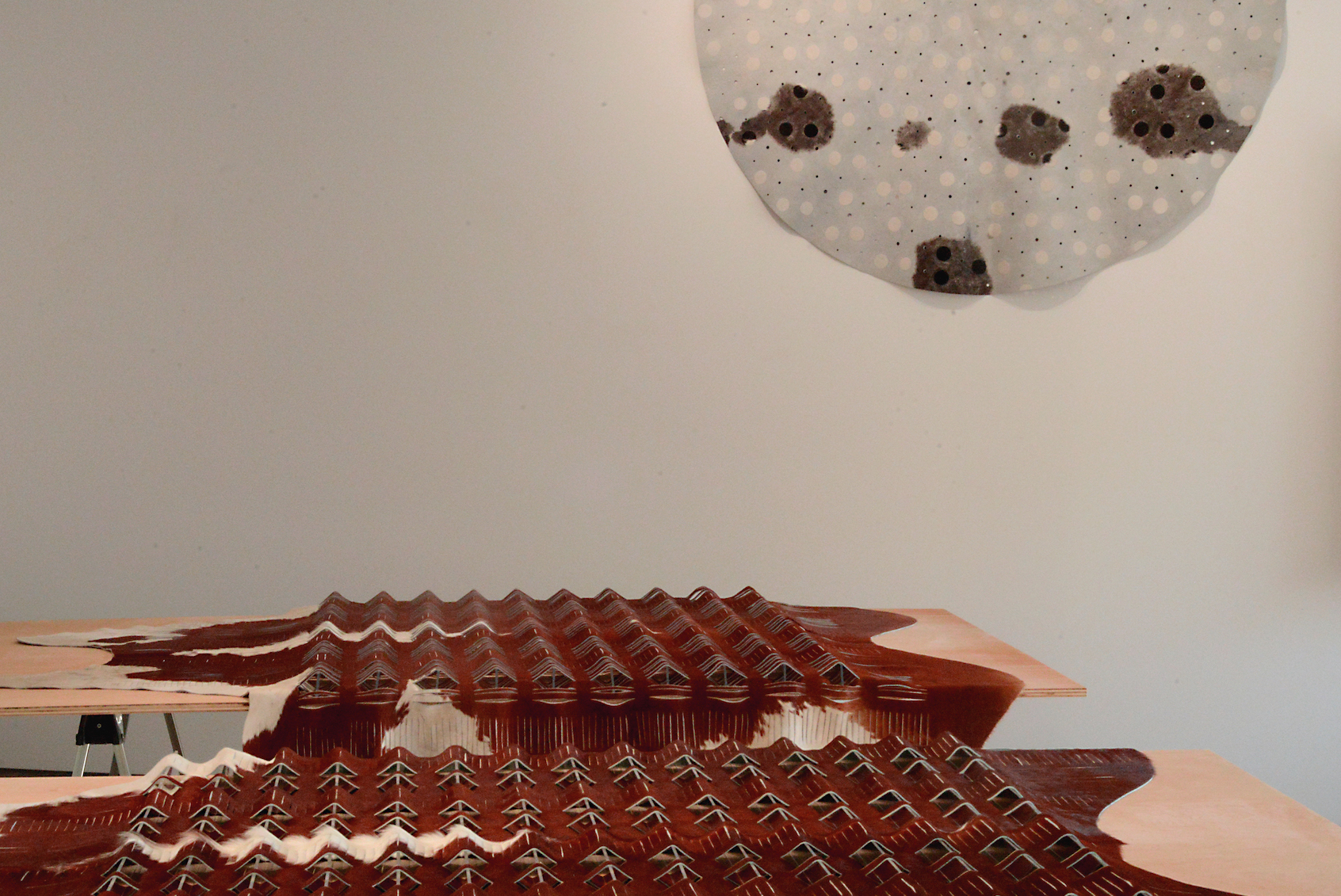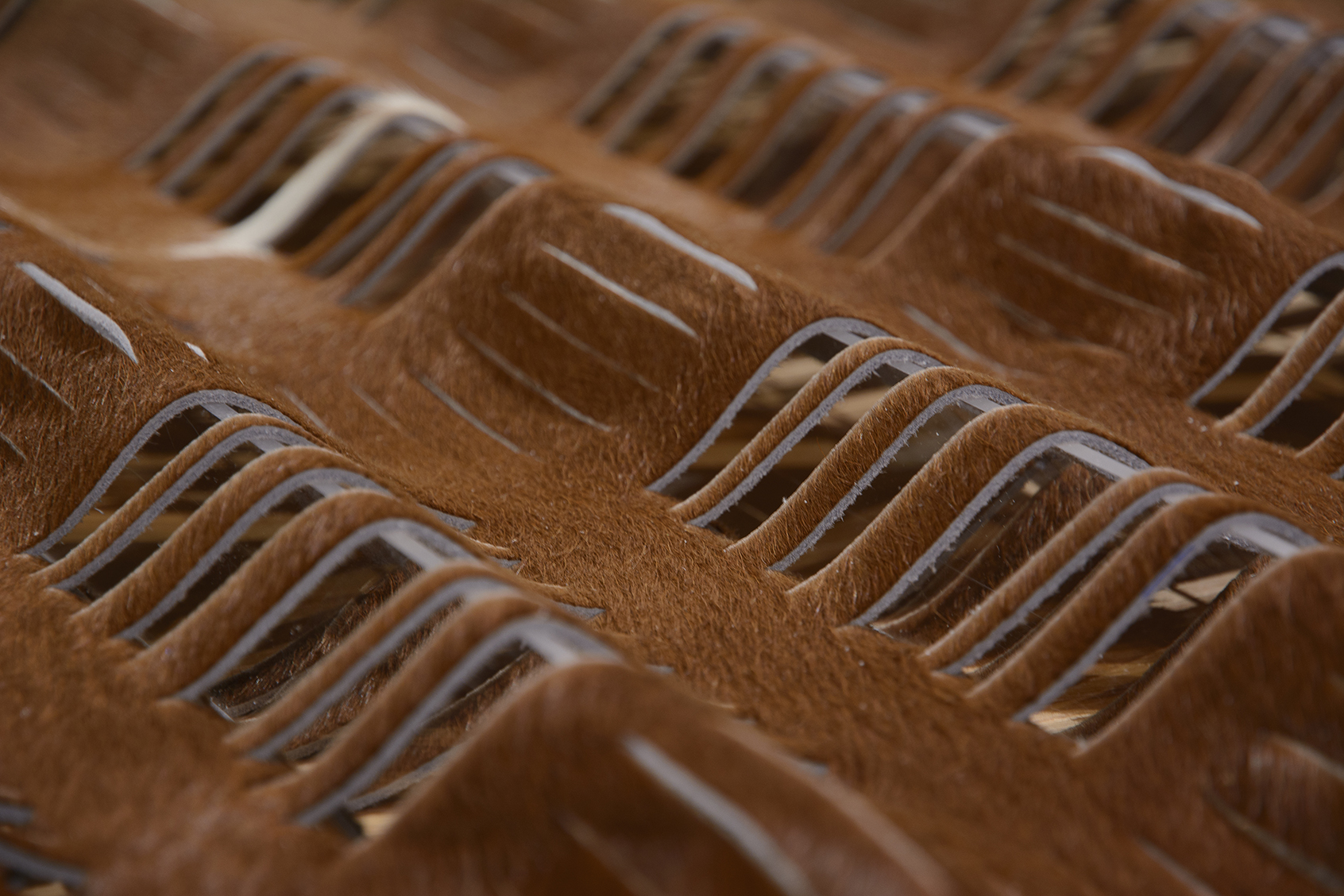 Seeing and not seeing is an encounter both with nature and with the human manipulation of nature (that one could call world-design, or designed world) in the form of the food industry, of which they are a by-product. There is nothing more evocative of a 'nature' for humans than the animals with whom we share space or environment, which exist at our scale, and whose style of movement is biologically and neurologically so close to our own. Animal skins are a flattened form, derived from, or expressing, the full living form. They are shapes which are as primal a part of human image-making as we can imagine - outline drawings from the prehistoric survival-hunt as proto-art or proto-ritual practice. These very contemporary manifestations of material meaning are an engagement with the idea of nature in an era of intense environmental co-fragility within the endgame of colonial culture. That is to say: they are about the basic crisis-questions of America.

From the advent of television, we have been watching animal shows. They were invented in the era when America controlled the world, and we still watch them in the era when 'nature itself' seems to be at risk as a result. We consume the animals and at the same time we are fascinated by their lively movement and behaviour, so identifiable with our own, similar to, but different from our neurological ordering. This seems deeply normal. But also it is a witnessing of something radically in crisis, perhaps explicitly hidden by our primal connection to living bodies in movement. Last year, the meat packing plants of North America were themselves an apex point of cases in the Covid pandemic. In those factories migrant contract workers, refugees and recent immigrants are at the front line of feeding us, we who can de-connect from the process. Perhaps, if not modern-day slavery, this is evidence of the perennial shunting-off of the visceral and flagrant cost of comfortable living. Is ALL THIS too much to ask the works in this exhibition to respond to? Again, the answer is yes, of course. I'm so sorry. But these works of seeing and not seeing are a special sorting out of the everyday - what is seen and not seen. These skins are a inseparable surface between (or is it 'of'?) nature and culture - a membrane that the attentive and laborious gestures of Yan Miller's artistic process of re-patterning seek to bring into the visible. They are a coping with the state of things and rehearsal-gestures for repatterning that state. (Andrew Forster, curator)


FURTHER THOUGHT

Essay by curator Andrew Forster "Seeing and Not Seeing Nature: Recent hide works by Mindy Yan Miller" ESSAY

Interview with the artist by Amber Andersen INTERVIEW

Biography: Since the mid-eighties Mindy Yan Miller has exhibited across Canada, including at Mercer Union, YYZ, Optica, B-312, La Centrale, The Art Gallery of Alberta, Southern Alberta Art Gallery, Latitude 53, Stride Gallery, Dunlop Art Gallery, Moose Jaw Museum and the Western Development Museum (Saskatchewan). Internationally, her work has been seen at Art in General (NYC), Hallwalls (Buffalo), Artspace (Raleigh NC), W139 (Amsterdam), Galerie Schleifmuhlgasse (Vienna), Artforum (Berlin) and Universidad Iberioamericana (Mexico City). Formerly strongly implicated in Montreal's artist-run milieu, Mindy Yan Miller currently lives with her family in Saskatoon. She regularly returns to Montreal to teach in the Fibres and Material Practices area at Concordia University.

Participation in this exhibition is supported by Concordia University through a CUPFA professional development grant. Production of the artwork 'seeing and not seeing' funded by a grant from the Canada Council for the Arts.